Dental Veneers In Kansas, MO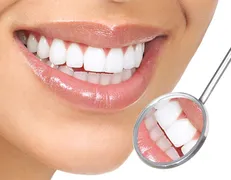 Everyone is looking to get a more beautiful smile. While some people are lucky enough to be blessed with a gorgeous smile, other people have to seek cosmetic dentistry in order to achieve their dream look. And what better way to improve your smile then with dental veneers? If you have questions, talk to your Medford, NJ dentist to learn about veneers.
Veneers are thin shells that are typically made from a tooth-colored material, like porcelain. They are applied to the front part of a tooth to improve the appearance of your smile. Veneers are a great option if you are looking to hide these common dental imperfections:
Discolorations and stains
Chips and cracks
Misshapen teeth
Gaps between teeth
Overlapping teeth
Teeth that are too short
They are also a great and easy way to get the straighter smile you've always wanted without ever needing to wear braces! For teeth that are stained and discolored and don't respond to professional whitening, another way to get a whiter smile is with dental veneers.
Once we determine that veneers are right for you, the next step is to prepare your teeth for the procedure. This means some tooth enamel will need to be shaved down to accommodate the added volume of the veneers. Once teeth have been prepared, impressions will also need to be made. These dental impressions will be sent to a laboratory, which they will use to create your very own set of custom-made dental veneers.
Once the veneers are made, they are ready to be placed. Your Medford dentist will apply them to the front of each tooth using a special dental cement. This cement will need to be hardened with a laser in order to permanently adhere the veneers to your teeth. With one good polish, your smile is now ready to go. In just three visits, you could finally have the smile you have dreamed of!
To learn more or to schedule an appointment for veneers with your local Kansas City, MO dentist, Dr. Todd Bellem, DMD, call our office today at (816) 931-5320!